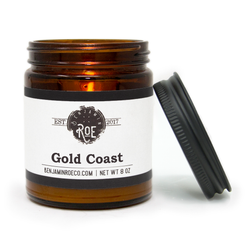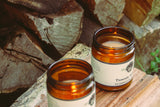 Bring the vacation to you! Picture yourself on a golden, white-sand beach with the warm sun on your face and the sound of the waves crashing. That perfect moment that you can now go back to every time you light our Gold Coast candle.
Notes of coconut and sea salt transition to citrus, sandalwood, and cedar. 
Hand Poured Soy Candle
Single Cotton Wick
Available in Two sizes:
Small Black & Gold Tin
Net Weight: 4oz
Burn Time : 20+ hrs
Reusable Glass Amber Jar
Net Weight: 8oz
Burn Time 40+ hrs
Burning Instructions:
The first time you light the candle, allow it to burn until the liquid wax covers the entire top of the candle. This breaking in process insures that it will perform better and more evenly throughout the life of the candle.
Never leave a burning candle unattended. Keep wicks trimmed to 1/4 inch. If you notice a large flame during burning, blow out the candle & trim the wick before re-lighting. Place burning candle on heat resistant surface. Never move a candle while hot or burning. Blow out the candle if jar becomes excessively hot. Keep out of drafts. Keep out of reach of children.
To prevent candles from boring a hole down the middle, burn candles at a minimum of at least one hour for each inch in diameter. For example burn a 3 inch diameter candle for a minimum of at least 3 hours each time. Burn long enough to achieve a melt pool that can be seen all the way around the glass.
Customer Reviews
07/23/2020
Emily H.
United States
Excellent product
This candles smells wonderful and burns for a long time! I am not usually a fan of vanilla scents as they can be cloyingly sweet, but the tobacco leaves balances it out really nicely.